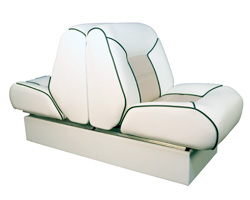 A sturdy aluminum double action scissor mechanism allows the seat to fold down to a sleeper position of 70 inches in length with the large and 68 inches with the small seat. All Bentley's Back-to-Back seats come standard with bases and mounting hardware. The base provides useful storage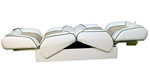 space. Standard base height yields 12″ from the floor to the seat cushion surface. However, you can custom order your seats with any base height that suits your needs. Storage access cutouts are an option on the side of the seat base on taller units.
Choose up to three colors of Naugahyde vinyl to upholster the seat in a color scheme that compliments your existing boat upholstery.